Oahu Real Estate Market Insights: August 2023 Report
Analyzing the Dynamics of Closed Sales, Prices, and Inventory Trends
Closed sales of single-family homes and condos declined year-over-year, dropping 19.7% and 16.9%, respectively; however, compared to a month ago, single-family homes recorded a 12.5% uptick in sales, while condo sales remained steady.
Compared to 2022, the median sales price for a single-family home dipped 1.4% to $1,110,000, while the condo median sales price increased 3.3% to $515,000. From a year-to-date perspective, the median sales prices for O'ahu properties fell for single-family homes to $1,050,000, a 5.7% decline from last year, and for condos to $502,000, down 1.6%.
Single-family homes in the $900,000 to $1,199,999 price range experienced the largest decrease in sales volume, falling 39.2% year-over-year; however, the more affordable price range of $600,000 to $899,999 range saw a slight increase of 13.1% or eight more sales compared to last August. For condos, the more affordable price points of $100,000 to $499,999 marked the most significant decline in sales volume, falling 24.3% year-over-year. At the same time, condo sales in the $900,000 and higher price range remained relatively unchanged from the previous year.
August saw more active inventory of single-family homes in the $799,999 and below range, rising 33.8% from a year ago. The Kāne'ohe and Leeward regions experienced the largest increase in units of active inventory, with year-over-year increases of 52.9% and 16.7%, respectively. Condo inventory increased at most price points, with the bulk of the active listings in the $300,000 to $699,999 range, reflecting a 20.7% hike compared to last year.
Properties in both markets moved at a consistent pace, albeit five days slower than last year, with a median of 18 days on the market for both single-family homes and condos. Homes in the Leeward region and condos in the Waipahu region are moving into escrow at the slowest paces compared to other neighborhoods, with median days on the market of 50 and 41 days, respectively.
Pending sales volume remains down year-over-year, but both markets witnessed a modest month-over-month increase. Contract signings rose 8.1% for single-family homes and 1.0% for condos compared to July.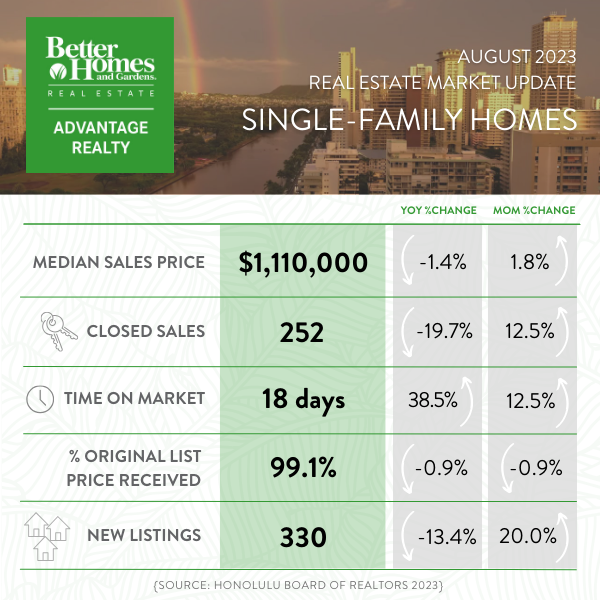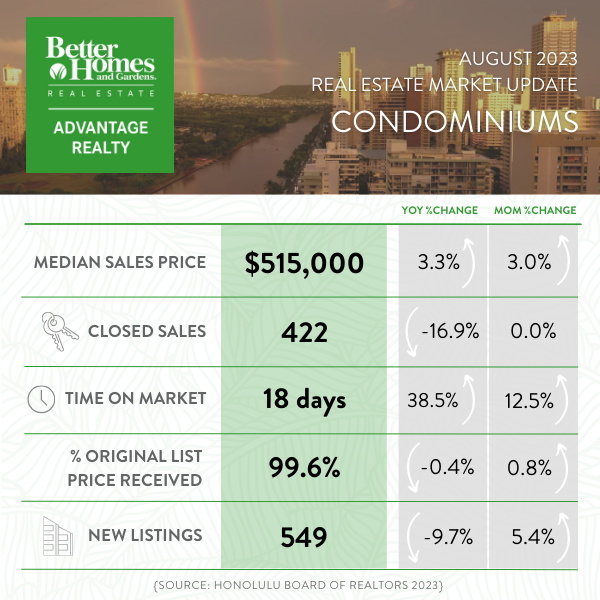 Click below to view the full report or go to: https://issuu.com/advantagerealtyhi/docs/market_report_-_aug_2023?fr=xKAE9_zU1NQ